I hope Am I right Wedding Photographer for You!
You've Got a Friend in Me!
My number one goal is to work with my Brides and Grooms as friends and to build a really positive relationship with them. I do not think about my wedding day couples as clients. I really do see them as friends. By having a genuine friendship relationship with my Brides and Grooms I can do my best work as a wedding photographer.

Your Wedding Day is not a Photoshoot!
I should not say that as I'm a wedding photographer But, let me explain!
Not every wedding photographer is for you. As I'm getting married next year, I'm on the same side as you. I'm looking for the perfect wedding photographer to photograph our wedding day. You have to do a lot of research to find the wedding photographer that makes you feel WOW! Look at the AMAZING photographs they have taken! But also, you have to meet with the photographer to make sure that you want this person to be with you on your wedding day. Remember, your photographer will be one of the people who you will spend so much time with on the most important day of your life! It is so important that you get on.
With this Top Tip in mind, I wrote a very important post offering tips and advice on how to choose the right wedding photographer for your wedding day. Click on the link below:
How to choose the right wedding photographer?
My Approach
But I want to say something about me…
I deeply believe that who am I and what I LOVE about wedding photography makes me the right wedding photographer for so many wedding couples.
I'm always very honest with my clients. This is why I have never had an unhappy Bride and Groom and I want it to stay that way!
My style of shooting is very relaxed. I love to have fun with my wedding couples and I strive to capture all the emotions of the day. My main goal is to show the connection and romance between two people in love.
Family Matters!
I'm not a "traditional" wedding photographer but Yes, I am more than happy to take the official Family photos.
Please click on the following link for a blog post on capturing your family photographs with ease:
But if you are looking for a lot of Family portrait photos on your wedding day then you will not get the variety of photographs that I show on my website in my portfolio. For the best of both worlds, I recommend that we establish a list of family photos which covers all of your immediate family. We can then fly through the list and before you know it you will be free to enjoy your drinks reception.
Capturing the Natural Moments
For me, the most important wedding day photographs capture the emotions and the connection of the couple. It's not about the perfectly fixed wedding dress on a staircase in a Castle!
If you want all of your wedding photographs to be posed photographs of the two of you looking into camera, then I'm not really your wedding photographer.
Wedding Photoshoot after your wedding day?
If you want a wedding photoshoot, I would recommend that you book that after your wedding day. On your wedding day you should be enjoying the festivities and spending time with your friends and family.
A few weeks or months after your wedding day, it is very easy to have a photo session in the mountains or on a beach etc. Whatever your dream location is.
But to answer your question – Yes! I take portrait photos of the Bride and Groom on their wedding day :)
My Portfolio
If you are on my website because someone recommended me to you please check out my portfolio. Have a look at my photographs, my creative approach and how I edit my photos, as your photos will have the same style.
It's so important to see as many photographs from a wedding photographer as possible when you are making your decision. The photographs of your wedding day will have the same style of edit and colours he or she uses on their website. By doing the research their will be no surprises!
If you like a moody dark edit then you need to choose a wedding photographer who edits their photographs that way.
If you love colours and vibrant edits then you need to choose someone who is matching that style. In doing so, you will avoid problems and unnecessary misunderstandings for you and your wedding photographer.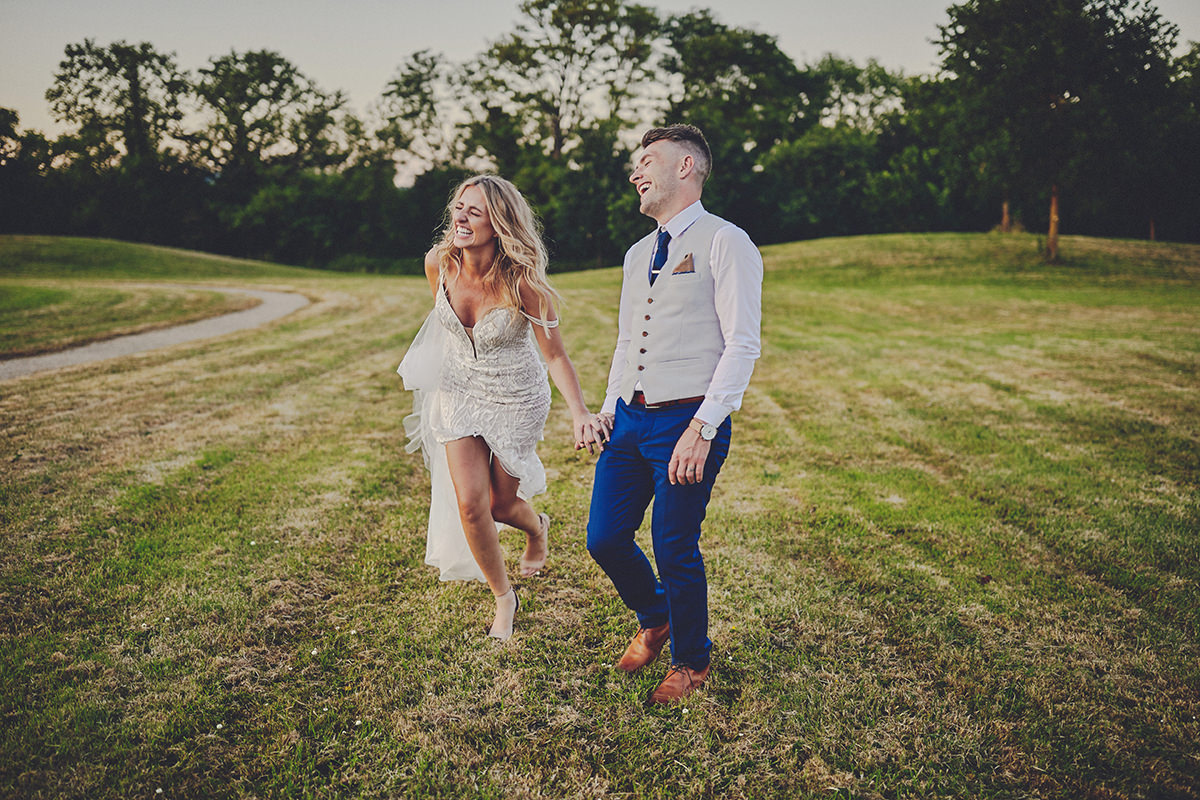 De-stress Wedding
Please also read a post that I have written about creating a Stress-Free wedding. This post explains a lot about my style of shooting:
How to Plan Stress-free wedding?
Testimonials
And last but by no means least, please read this testimonial that I have recently received, before I have even delivered the photographs to the Bride and Groom.
"Hi Daniel, 

Sorry I'm only getting to mail now, we only came home from honeymoon last night.

Firstly, I just want to say you were absolutely fantastic and put me at ease from the moment you came to our room. Your questions and help at the start really rested my mind as I was very nervous, you told me exactly what I should do from not only a photograph point of view but about walking up the aisle etc. I was glad to have you talk me through all that.  

Secondly my children think you are the coolest person on earth, they have not stopped talking about you. Thank you for being so good to them. You went above and beyond and I am very grateful. 

Lastly you were a pleasure to work with, I forgot you were there and I surprised myself with how much I enjoyed the posed photos in the garden. I really got into it as you were so positive and encouraging. You made us both feel good about ourselves. 

I cannot wait to see our photos and thanks again for being amazing. You are the best. 

Samantha and David"
"Daniel is just wow! My wife and myself are amazed with him. 
He is just fantastic man, we are deaf couple, he wasn't nervous about us being deaf, he used gestures to communicate with us so there was no communication-barrier between us. 
he make us feel relaxing and keep us happy. 

We had him from 10 in morning till to roughly at 9 or 10pm, we didn't even noticed that he was there and he still took pictures of us.
Photo booth was brilliant, all of our guests loved it!
His pricing is well worth it. If we have to do wedding again, Daniel will be our first choice without a question.
Our wedding was supposed to be on 11th of November but Daniel wasn't available so we changed our date  because he was available on that day, we only changed the date because we want him to be our photographer.
Ten out of ten, brilliant photographer and really lovely man".


Sabrina and Harry
I hope you have found my tips and advice helpful and that you will find it easy to choose the right wedding photographer for your wedding day.
Happy Planning!
Daniel