Do you need a second wedding photographer at your wedding?
This is a question that I get asked a lot from my brides and grooms. It is not an easy question to answer as every wedding is different.
I'm planning my own wedding at the moment which will take place on 01.06.2019 and I'm now on the same side as you. :)
I have been looking for the best wedding photographer and best videographer I can get! :)
My search is over now and I'm happy with my decision – Single shooter booked!
If a couple wants a second shooter I can provide that service but in my opinion and from my professional experience of shooting weddings in Ireland and abroad, I believe that having one dedicated wedding photographer has far more benefits that having two wedding photographers. But everyone has to do what's right for them and their day.
There is absolutely nothing wrong with booking two people to work as a team, if you feel more comfortable with that option.
If a couple wants a second shooter I can provide that service!
But, let me explain why I believe that one wedding photographer is the best option and when second shooter will make more sense !
THE BENEFITS OF A SINGLE SHOOTER
Two Wedding Photographers – Double the Wedding Photographs – Right?!
It makes perfect sense to think that if you have two wedding photographers on your wedding day, that you will then be wowed with two sets of amazing pictures. The more pictures from your wedding day the better!
However, the reality is very different.
It's important to understand that the second shooter will really only deliver the moments that your wedding photographer will miss. But if you have hired an experienced single wedding photographer, you will never feel that something is missing when you see your wedding day photos.
An experienced wedding photographer is well aware of the most important moments throughout your wedding day and will be there to capture those moments for you.
THE BENEFITS OF A SECOND SHOOTER
The only occasion where I can see the benefit of having a second wedding photographer is when the Bride and Groom are in separate locations and capturing the Groom getting ready before the ceremony is a MUST for the couple.
If the Bride and Groom are less than 15min- 20 minutes drive apart I can cover both houses. No problem!
Normally, I stay with the Bride until I need to be at venue for the ceremony. I usually arrive 30min before the ceremony so that I can shoot guests arriving and the Groom greeting guests. This is a very good way to shoot both the Bride and Groom on the wedding morning.
I often have the Groomsmen gather around the Groom to adjust cuff links, boutonnieres and ties etc. to give the appearance of getting ready. These photos really bridge that one gap in the morning's preparations.
Will I regret my decision?
You can read some testimonials here. There are no moments missing from these wedding days and these couples did not need a second shooter at all:
https://www.dkphoto.ie/testimonials/
Less is More
When I started to research for my own wedding, I was looking for only people who work alone. In my opinion, having less people around the Bride and Groom is better on the day. There are less people to take away from your private moments. There are less people to deal with and there is less stress involved in capturing your photographs.
Value for Money?
it is easy to get sucked into the idea that having two people is better than one….
I know that it is easy to get sucked into the idea that having two people is better than one. Especially when the selling point is that there are two people shooting for the price of one. Plus, you are naturally worried that everything will be captured on your day. Two people may give you a false peace of mind. But I honestly believe that choosing quality is far more important than choosing quantity.
And now from the technical point of view:
Can you imagine a small church where you have 2 wedding photographers and 2 or 3 videographers? It's starting to feel pretty crowded! With all these people shooting around you, it's incredibly difficult for everyone to avoid having each other and each other's equipment in the background.
Average price for wedding photographer
Having one wedding photographer who is free to move around subtly during the ceremony will allow for a variety of angles and nothing will be missed.
Take a look at these examples of how easily I can capture a variety of angles during your ceremony:
You can see Bride , Groom , Quests , Parents , Singer , People reading during ceremony and more – I shoot all those photos alone moving around :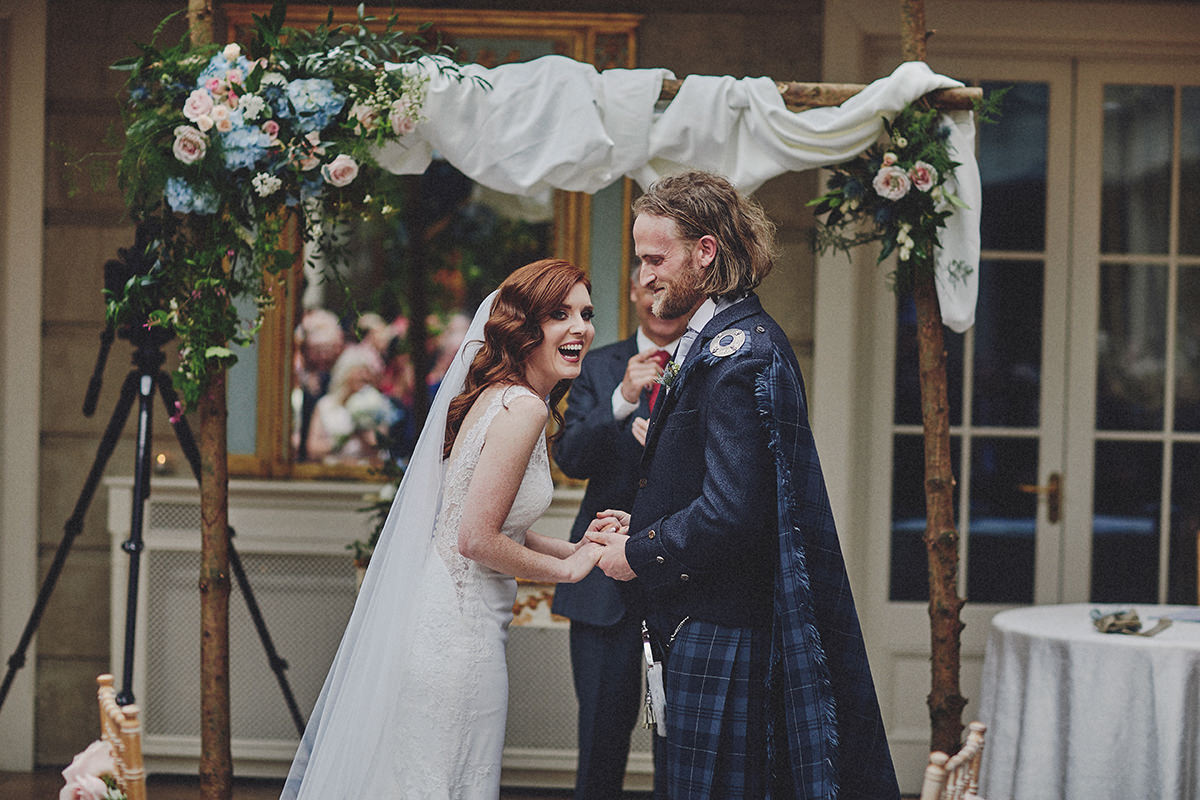 as You can see on those photos – You can see  Bride , Groom , Quests , Parents , Singer , People reading during ceremony and more – I shoot all those photos alone moving around- I didn't run ! :)
You can see full wedding here : https://www.dkphoto.ie/tankardstown-house-wedding-co-meath-as/
Tips for Choosing Your Wedding Videographer
I have outlined in another blog post some of my top tips to consider when choosing the right Wedding Videographer for your wedding day. Please have a look at that info here:
https://www.dkphoto.ie/choosing-your-wedding-videographer/
One Wedding Photographer Giving 110%
I prefer to work alone and to do everything myself. When I am responsible for every moment of your wedding day being captured I know that nothing will fall through the cracks. I can only rely on myself as I have 100% of the responsibility and that's the way I like it.
I honestly believe that if you choose the right wedding photographer for your wedding day you will not need a second shooter. One wedding photographer giving 110% will guarantee you wedding photographs that you will treasure for a lifetime.
You can read some testimonials here: https://www.dkphoto.ie/testimonials/
Do you need a second wedding photographer? by www.dkphoto.ie
This comprehensive list of tips and advice will guarantee that you will choose the right wedding photographer  : 
How to choose the perfect wedding photographer for your perfect wedding day